Various electrical connectors designed for use in deep-sea vehicles (AUV, ROV):
GSE series underwater hermetic connectors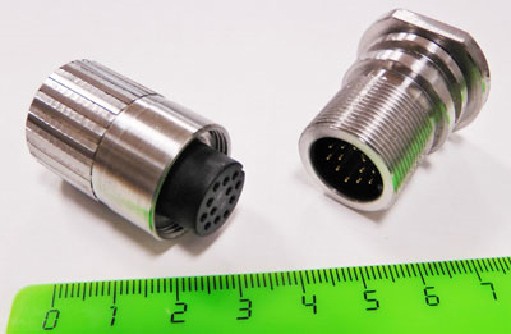 GSE series connector - compact underwater sealed electrical connectors for operation at depths up to 600m in fresh or salt water. Designed to connect the cable network of underwater equipment for various purposes. Sealing of the joint is provided by a rubber seal. The connection is made by means of a metal flange with metric thread. The design allows coupling/uncoupling of connectors without the use of a tool.
Connector specification

Connector type

Cable outlet

Cable plug

Block fork

Connection method

screw

Number of contacts

12

Degree of protection

IP68

Working depth

Up to 600 m

Body material

Nylon, stainless steel

Contact material

Copper alloy, gold-plated coating

Contact resistance

<10 mОm

Insulation resistance

>100 Mom when 500W

Number of articulation cycles

At least 1000

Max. operating voltage

500В

Max. operating current per contact

5А

Max. total current for all contacts

40А

Operating temperature

-40..+50°С

Storage

-40..+50°С
---